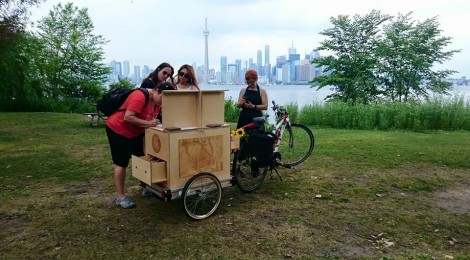 The image below is a view of the City of Toronto from Olympic Island, where Figment Festival took place. Our project had no fixed location, but was allowed to relocate to different parts of the island, unveiling different aspects of the islands' natural environment and the city's current and past appearance. We had prepared a number of small activities to inspire visitors. Our participants were encouraged to offer memories, commentaries, samples and recipes that reminded them of these places.

Click here, or on the two activities below to see how participants contributed to this first TiP event.
Activity #1
DO YOU RECOGNIZE ANY OF THESE ITEMS? HELP US ORGANIZE OUR MUSEUM: CHOOSE AN INDEX CARDS AND LET YOUR IMAGINATION RUN WILD
Our mobile lab travelled to Ward Island and Centre Island to collect small samples of the vegetation and the occasional signs of wilderness. The small evidence was collected in a series of petri dishes and exhibited in our momentary portable museum. Adults and children played with, and added more specimens, offering their wisdom about the medicinal and culinary properties of certain plants as well as their dreamy, playful, and nostalgic roles.
Activity #2
IMAGINE YOU WERE ASKED TO REDESIGN THE TORONTO SKYLINE. WHERE WOULD YOU START? WHAT WOULD YOU DO?
In the past 200 years, Islands visitors and inhabitants have seen The skyline of Toronto being transformed radically. The mobile lab relocated on the shore facing Toronto, where most of the pictures of the skyline that we often admire in newspapers or archival material were usually taken. Armed with a series of archival images transferred on transparent acrylic plates, we invited participants to compare these fainted silhouettes to the current appearance of the city. We wanted to evoke memories, comments and stories. Visitors responded in many different ways. Some expressed their admiration for the impressive jungle of steel and glass that keeps growing like a breathing organism. Others recalled with nostalgia their memories of the city of bricks  they first saw as new immigrants or as children. We met some tourists who were visibly surprised to witness the transformation the city has undergone in a relatively short period of time.